Who are Hoque Consultancy?
Welcome to HOQUE CONSULTANCY
Hoque Consultancy has provided educational consultancy services and advice to international students throughout the UK since 2009 and is based in London. Hoque Consultancy was originally called Hoque Consultancy 4u.
Hoque Consultancy is managed by Mr.Fazlul Hoque who has been working in the education consultancy market for many years and also run a UKVI Sponsored College in London.
Mr. Hoque is educationally qualified from both overseas and the UK. He has successfully completed his Master of Business Administration (MBA) from Liverpool John Moores University. UK. Hoque Consultancy provides free educational consultancy services, including finding out appropriate courses and Colleges/Universities for international students.
Hoque Consultancy is actively engaged in opening additional offices worldwide. Hoque Consultancy aims is to provide exceptional services to international student who have a fixed intention to study in UK.
Hoque Consultancy provides faster services to international students than many other consultancy groups, putting student needs first. We aim to make sure students' dreams come true! Hoque Consultancy recruits only the best students and the very best consultants!
Our mission is to provide an excellent, trustworthy and a reliable support system to international students for admissions to UK institutions, that equips them to transform their career and gain extensive knowledge through global education.
To see Hoque Consultancy as the leading international, recognised, and accredited education consultancy services provider for international students with exceptional customer service standards.
Official UK University Representative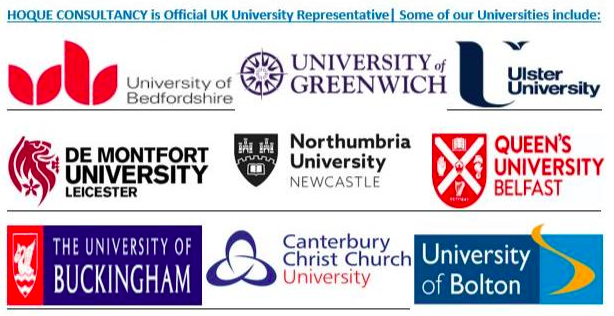 Associated with many UKVI Highly Trusted Sponsor Colleges and UK Ranking Universities all over the UK, our fully qualified staff members are able to offer a professional educational and advice service to international students allowing them to get into the best UKVI Highly Trusted Sponsor Colleges and Universities.
Hoque Consultancy provides free services to international students, while helping them to find, without difficulties, their preferred courses. Students do not waste valuable time, energy and money. With a complement of skilled full-time and part-time consultants, Hoque Consultancy operates as an effective, professional team.
A message from our Managing Director
I feel immense pleasure to introduce Hoque Consultancy as a leading education consultancy based in London, United Kingdom, recruiting international students with British Council trained agents. Hoque Consultancy has been providing excellent services to UK-based international students and overseas students from Bangladesh, India, Nepal, Sri Lanka, Pakistan, Nigeria and Ghana. Hoque Consultancy has been working very closely with UK universities and international students to support them in their chosen programme to fulfil their future dreams. Currently, Hoque Consultancy has global branches in New York (USA), Mumbai (India), Dhaka & Sylhet (Bangladesh) in order to extend our excellent service to international candidates who are interested in receiving higher education in the United Kingdom.
Hoque Consultancy continues to face new challenges in our business environment. The pace and scale of change are unprecedented due to the global pandemic. Hoque Consultancy has overcome these difficulties to give a better understanding of UK universities online classes, travel information, quarantine and other UK government rules and regulations to international students and also by taking the initiative to open more branches internationally in order to extend our operation to better reach students worldwide. But there is more yet to be done. We will remain fully committed to our promise for excellent services to international students globally.
Our mission is to extend this trajectory into the future and become a leading global education consultancy firm where international students, no matter where they are, will be able to apply to the UK's world reputed university programme with ease.
We are confident that we can exceed expectations of all partners, employees and clients by carefully considering their respective interests. We are committed to fulfilling the expectations of our international students and behaving responsibly, striving for quality services through continuous improvement. To this end, we have developed a plan to fulfill international student's interests and offer support for all matters regarding UK universities, programmes, tuition fees and scholarships, as well as personal life in the UK.
Fazlul Hoque
Managing Director
Are you ready to take the next step toward your future career?